from the Fall 2018 newsletter:
TWENTY YEARS OF LINNE CALODO WINE
In 1998 we started Linne Calodo with a dream and a vision to produce wines from the westside of Paso Robles, wines which represented the best our neighborhood had to offer. My college roommate, Justin Smith, and I started off picking fruit from his family's James Berry vineyard and Elmer and Mary Cherry's vineyard, using the Wild Horse Winery facility after hours.  Many days we would pick fruit in the early morning. Then, I would go to work at Wild Horse at 9am and finish around 10pm. After everyone left for the day, we'd start processing the fruit for Linne Calodo and complete cleaning around 2am. I practically lived at the winery! In fact, I lived in my car for a period of time in the Wild Horse vineyard. I was too busy helping Wild Horse expand both case production and facilities that I had little time to look for a place to sleep. By 2001, Wild Horse had grown from producing 70k cases a year to 210k cases a year and I could feel the pressure of storage space running out. It was time for me to leave the nest, a natural progression I suppose. My wife, Maureen, and I had earlier found a property in late 1999 and moved into the existing residence. In the garage, I built an 8'x 8′ air-conditioned room for wine storage and shipping, I'd build orders in this room and bring the wines with me to the Horse for shipping. Later, after leaving Wild Horse, our house would both become the office and the shipping hub for LC.  For 2001, the wines were produced at Garretson over in the industrial park near Hwy 46E and Golden Hill (now Rendario Cellars). Barrels of completed wines were cellared at Zenaida Cellars. In March of 2002, we started construction on our first production and tasting room building. It was a simple, 2000 square-foot facility with a small outside crush pad, all completed by August 2002. Short on money for equipment, I came up with the idea of consulting for equipment use. Problem solved, the stage was set and we now had a fully functioning winery! In October of 2002, we celebrated our Grand Opening and the first Linne Calodo Harvest Party. Still using our home office to run LC and now shipping out of the winery, we ran a very lean crew. Maureen and I would work in the tasting room Thursday-Monday, but we were also available by appointment.  Our first born, Gabriella, would sleep in her car seat while we hosted guests in the tasting room. In 2005, with the birth of our 2 child, we hired Mark Wiberg. There we were, still working from our home office, changing diapers, answering phone calls, and our first full-time employee working. In a rush to build an office, I conceived the idea of building a 12′ x 14′ office on 4″ x 6″ on skids. The office would be moveable with a couple forklifts.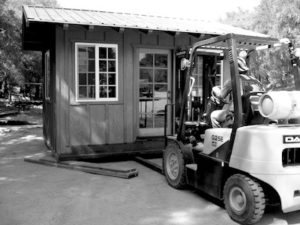 A shack of sorts: 4 desks, 4 phones, one wall mounted AC unit and windows on 3 sides. When we wanted to have a meeting, we would spin our chairs around and face each other – a simple but functional office! At the same time, I was also working on planting our first estate vineyard – the Roxie blocks.  They were planted to grenache, syrah and mourvedre in May 2005 and so started a series of experiments in clonal selection and rootstocks that continues today.  To be continued…
---
from the Spring 2019 newsletter:
THE STORY CONTINUES
So at the end of my last newsletter, reviewing how we began (and where we'll go), we left off at 2005. Our second child was born, the first production facility was built, and the Roxie Block Vineyard of Grenache, Syrah and Mourvedre was planted.  Let's continue…
In 2006, the early production facility was working great, but it was time to expand and build a real office, as well as a tasting room that didn't require parkas and thermals.  The plans for a winery expansion were worked on in 2006 and plans were submitted in 2007 for permits, getting the ball rolling.  Paso Robles was quickly expanding with new wineries and construction. My recollection is that over 100 Paso wineries existed at that time.
In April of 2008, we broke ground on the barrel and tank building, which would be nearly three times the size of our original barrel room. Our contractor John Cloud, who helped build the original facility, returned from Idaho to help – the team was back together!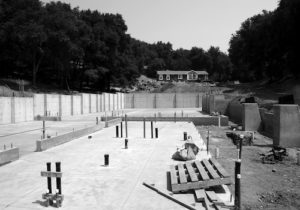 The production building, as well as the new tasting room, was completed in just over a year's time.  What a difference to have space and a place for everything!  The new barrel room allowed us to add the odd shaped and functional vessels that would not have fit in the first facility.  Since 2009, we have added concrete cubes, concrete cylinders, foudres, puncheons, concrete eggs, and roller barrels.  Each vessel has been an experiment and, over the years, we have learned what works and what doesn't.
In 2007 and 2008 we also continued the planting of the LC property.  The new vineyard included Grenache Blanc, Picpoul Blanc and our usual varietals of Syrah, Grenache and Mourvedre.  This planting has been a lesson on growing in a cold spot with a shorter growing season from both Spring and Fall freezes.  The wines are different than most others grown in Paso, with lower alcohols and higher acidities.  They definitely show a sense of place.  In 2009 we also began work on a deal to lease a 14 acre neighboring vineyard and graft it over to Grenache, Syrah, Mourvedre, and Cinsault.  This new project was another huge learning experience on grafting an existing vineyard and rootstock compatibility for farming style and varietal.  The roots on this vineyard were incredibly water-thirsty and, if stressed, would shut down with little warning.  The problem I faced was that the water seemed to go directly to the grapes and the berry size would swell, leaving me with a diluted wine that lacked concentration and its local identity.
There are always challenges in farming. In 2011,  it was the year of Jack Frost, when an early April storm from the north rolled in, followed by an Arctic blast of cold air, dropping early morning temps as low as 25 degrees Fahrenheit .   There was nothing we could do but watch the vines get damaged from the cold and wait another month for new buds to push.  Across the whole state, this vintage was knocked by the critics, but they missed the learning experience. The wines from 2011 are some of the best drinking wines today – lower in alcohol, higher in acidity, and more tannic., everything you need to age wines, but more aggressive when young.
In 2012, the opportunity arose to purchase another 48 acres down the road and we jumped at it.  The plan all along had been to become an Estate Winery in command of our fruit and our destiny.  This property helped complete our plan and we now farm 54 acres, a perfect size as we can still wear every hat that is required to produce wines with personality.   To be continued…
---
from the Fall 2019 newsletter:
THE STORY CONTINUES, PART 3:  2012 to NOW
Here's a quick refresher.  In 1998 we produced the first Linne Calodo wines and have never looked back until now.
1998: Birth of Linne Calodo;
2002: Original winery is constructed
2005: Estate vineyard is planted, the  "Roxie Block";
2009: Current barrel room and tasting room are added to the original winery.
In the late fall of 2012, we began the development of our 48 acre property that we purchased early in 2012. I named the property Stone-thrower (also sometimes referred to as Trevi Ranch). In preparing the land for planting, we pulled out a huge heap of stones. Imagine a pile of stones 50 feet wide, 12 feet tall, and 100 feet long. That's how many stones had to come out so that we could stake the property and dig vine holes. Even still, there are places on the property with subterranean rocks that rattle the bones while driving tractor. In designing this vineyard, I broke it down in to 20 blocks. They range in size from half-acre up to 2.5 acres. In May of 2013, we planted the first vines on Stone-thrower:  a mix of grenache, syrah, mourvedre, graciano, carignan, and viognier.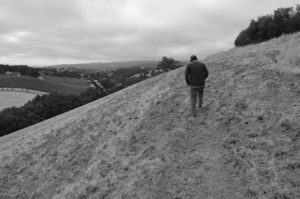 The 2013, 2014 and 2015 years were all marked by drought and are some of the smallest vintages of Linne Calodo. To me, these wines are really cool and show intensity from the struggles of the growing season. The 2015 vintage stands out as the one that made me scratch my head. It is by far the smallest year. In 2015, the syrah crop was down 50% and for a winemaker that likes to blend, that meant I couldn't make Nemesis. I needed the syrah for Cherry Red, Problem Child and Outsider. So, while I wish that I had contiguous vintages of all my wines, there are times when it just doesn't work and you have to do what is best. There have been and will continue to be vintages that mystify me. I think being nimble and flexible is why I love both farming and winemaking.
Finally, in 2016 I was able to taste the first fruit from the Stone-thrower. Like the birth of a newborn baby, I was filled with joy and excitement about the journey we were embarking on. The vineyard has elevations of 1,250' to 1,350' and slopes as steep as 40%. The fruit is so good and makes equally great wines. I'm super stoked to have added this to our LC portfolio.
These last 3 years are the hardest for me to write about as I'm still involved with each one of them. The 2017 vintage is great and is being chased by the 2018 wines which are blended and resting comfortably in their oak and concrete homes. Really, I've just been in a holding pattern for the last couple years. Farming, Winemaking, and Repeat. I think it's time for another project. Who knows, maybe caves are in my future???